SALTAIRE Condos Coming to Downtown St. Petersburg
Posted by Marc Rasmussen on Monday, April 22, 2019 at 5:49 PM
By Marc Rasmussen / April 22, 2019
Comment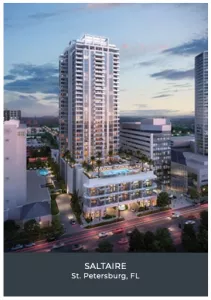 The Kolter Group , developer of One St. Petersburg condos, is likely to announce their newest condo project in downtown St. Petersburg - SALTAIRE.
Preliminary plans call for a 408-foot tower that would rise on what is now a parking lot between the St. Petersburg Hilton hotel and the Northern Trust office building on First Street S. SALTAIRE hopes to boast 35-story condominium building containing approximately 200 residences as well as retail on the ground floor.
Location of SALTAIRE Condos
About THE Kolter GROUP
Kolter, based in West Palm Beach, is making a name for itself in Florida's luxury condo field. They have won numerous industry awards and has developed over $12 billion of residential projects. These exceptional residences are located in some of the most desirable locations in Florida and the Southeast, including the Palm Beaches, Fort Lauderdale, Sarasota, St. Petersburg, Tampa and Atlanta. It has built or has under construction three towers in South Florida and two in Sarasota. One of them is called The Mark in downtown Sarasota and the other is The Grand Ritz Carlton Residences.
Pre-Construction Pricing
Several of the original purchasers in One St. Petersburg have already flipped their unit for a profit. This condo tower should get plenty of attention so there might be an opportunity to profit from being an original purchaser of a condo in SALTAIRE.
Contact us if you are interested in more information when SALTAIRE is released.